Peanut Butter Chicken Wings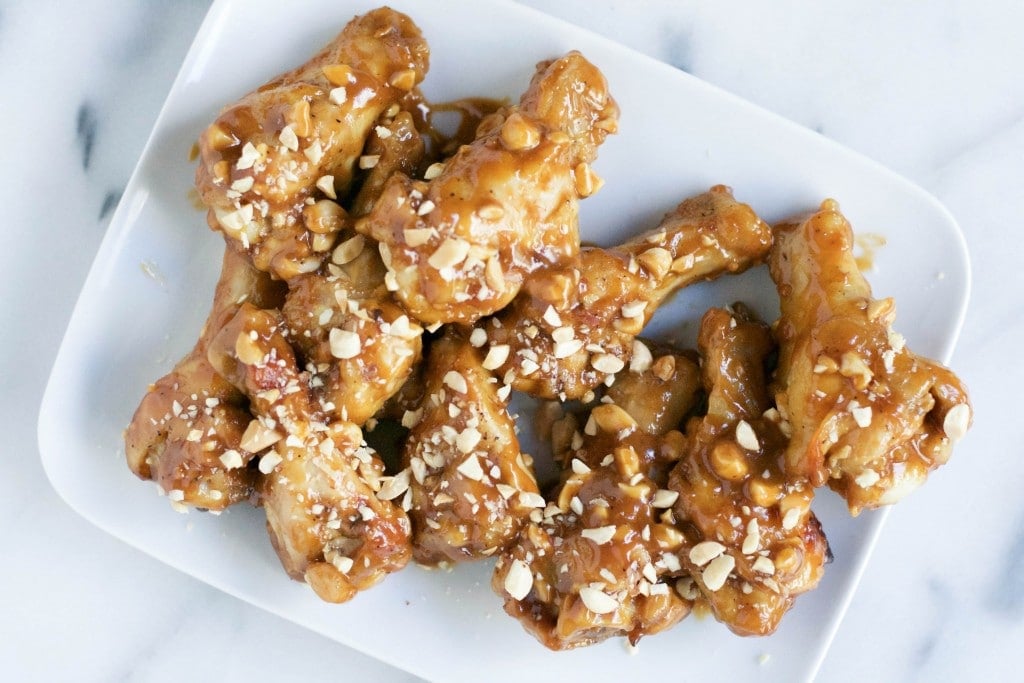 PEANUT BUTTER CHICKEN WINGS RECIPE
If you're looking for an easy gluten-free gameday appetizer, these peanut butter chicken wings are for you. They're baked in the oven, not fried – but they come out so crispy every single time! If you love saucy, crunchy, crispy wings then you'll definitely want to try out these peanut butter chicken wings!
Ingredients
For the Chicken:
1.5

 

lbs

 

chicken wing drumettes

1/2

 

tsp

 

salt

1/2

 

tsp

 

black pepper

1

 

tbsp

 

oil
For the Sauce:
1/4

 

cup

 Kaomi Smoov

2

 

tbsp

 

brown sugar or honey

1

 

tbsp

 

lemon juice

1

 

tbsp

 

gluten-free tamari sauce

 

you can use soy sauce if not gluten-free

4-5

 

tbsp

 

water

 

start with 4 and see if you need another

1

 

clove

 

garlic

 

minced

1/4

 

tsp

 

ginger

pinch

 

of cayenne pepper

1/4

 

cups

 

peanuts

 

chopped
Instructions
Preheat oven to 400F. Line a baking sheet with foil. Toss wings in oil and place on the baking sheet. Sprinkle with salt and pepper. Bake for 30-35 minutes, flipping half way through.

In the meantime, make sauce. In a small pot over medium heat, combine peanut butter, honey/brown sugar, lemon juice, tamari sauce, water, garlic, ginger and cayenne pepper and whisk together. Bring to a boil and then lower to simmer. Cook for 2-3 minutes and stir. Adjust thickness by adding more water if needed. Reduce heat to low until wings are ready.

Once wings have finished cooking through in the oven, turn the oven to broil. Broil the wings for 5-7 minutes, watching carefully, until they are crispy.

Remove from the oven, add wings to a large bowl and pour peanut butter sauce over the wings. Toss until wings are completed covered.

Plate wings, top with chopped peanuts, and serve.
TIPS FOR MAKING PEANUT BUTTER CHICKEN WINGS
CRISPY CHICKEN WINGS EVERY TIME
The secret to getting a crispy skin on these chicken wings is to bake then in the oven without the sauce. Get the chicken wings super crispy by baking them with some oil and broiling for the last 5 minutes to get that perfectly golden skin.
Then, toss the wings with the sauce to ensure crispy skin and saucy goodness every single time.
NO WINGS? TRY OTHER CUTS, TOO!
I'll admit, I kind of prefer to make these peanut butter chicken wings with wing drumettes rather than the typical chicken wing. But you can easily make this recipe with both types.
If you aren't really looking for an appetizer, use chicken thighs to create peanut butter chicken for dinner! The method works just the same, but the cooking time may vary slightly. You'll want to make sure your chicken gets to an internal temperature of 165F.
ALWAYS ADD TOPPINGS
I always add toppings on my chicken wings to let everyone know what's in the sauce. By adding chopped peanuts to the top of these wings before serving, you're letting everyone know that these wings are full of peanut goodness, which is especially important for those who may have a nut allergy. You don't often find peanut butter on chicken wings, so I always like to let everyone know in case there is an allergy.
The other great reason to add toppings such as chopped peanuts to the top of your peanut butter chicken wings is for the texture! Is there anything better than that CRUNCH?!? I didn't think so!